Proposing during coronavirus: Six romantic ideas for a beautiful proposal
Saturday, October 23, 2021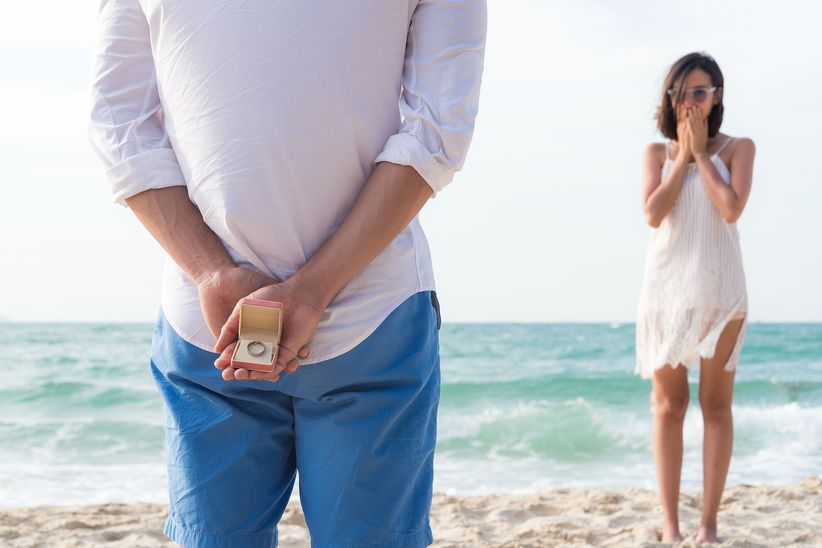 While many are waiting for an easing of lockdown restrictions, there are still countless ways of romantically proposing in style.
Weddings in 2021 were definitely impacted by restrictions, however nothing got in the way of engagements going ahead. In fact, there were reports of 2021's great engagement ring sales spike, with engagement planners saying that August 2021 was their busiest time ever.
The unstoppable nature of engagements was seen amongst celebrities too. The newly betrothed included Princess Diana's niece Lady Amelia Spencer and long-time partner Greg Mallett, Ariana Grande and fiancé Dalton Gomez, as well as singer Mollie King and cricketer Stuart Broad.
Being locked down together, many relationships were accelerated to the next step. While proposing on holiday may be off the cards, it may still be possible to surprise a partner at a mass gathering of friends & family depending on local restrictions regarding large outdoor gatherings.
With some skilful planning and a smidge of imagination, there's no reason that popping the question needs to be any less romantic this year. This pandemic has forced many of us to get creative, so below we have six ideas to help get you started!
Beachside proposal
It may not be Spain or Greece but Australia boasts some gorgeous beaches. From Tasmania's impressive Wineglass Bay, the isolated beauty of Western Australia's Mandalay Beach, to Queensland's stunning Whitehaven Beach - don't let Covid or international travel restrictions stop your perfect beach proposal. That fresh sea air and sunshine can be enjoyed before or after the question is popped. Afterwards, enjoy the solitude and alone time - close your eyes, soak in the sounds and all the beauty beaches offer. Make the proposal an event by planning a perfect seaside restaurant, perhaps some seaside activities, and restrictions allowing maybe even book a hotel overnight.
Plan a 'treasure hunt,' and a picnic in the park
While exotic tropical beaches and stunning international locales are off the menu right now, it's an ideal time to capitalise on the beautiful green spaces around us. Select a handful of trees, and place a romantic memory or a clue on each one, eventually leading to your planned picnic spot complete with rug, cushions, and celebratory bottle of bubbly! A memorable and picturesque way to propose, this personal spot will now forever be fondly remembered as the place the special question was popped. 
Arrange a virtual serenade 
Before Covid hit, you could arrange spectacular proposals ranging from personalised song performances to surprise flash mob dances. While surprise dance mobs may be off the cards, bespoke songs work perfectly on video. You can consult with artists & musical groups to write a medley of you & your future-spouse's favourite songs, and discuss personalisation of lyrics to reflect your unique relationship. With the ability to record (or have the performance pre-recorded), you'll always have a digital memory of your proposal day.
Musicians offering this service like to incorporate different elements about your relationship into the lyrics, such as how couples met, what they do for a living, and children & pets if any. You can then move on to the three best qualities of the person being proposed to, as well as a cheeky bad habit as a humorous ice breaker!
Popular song choices right now include John Legend's All of Me, Christina Perry's A Thousand years, and most of Ed Sheeran's catalogue. Adaptable artists will always mean you can personalise to suit you & your partner's musical tastes however.
Setting the scene
As restrictions fluctuate by local area, it may be difficult to squeeze in a booking in a capacity-limited restaurant. It may be hard to see how the comfort of your own home could be an alternative, but going all-out can turn a living room into the ideal setting to demonstrate your commitment and everlasting love.
Proposal experts suggest personalisation is really the key, and leaning into your fiancé or fiancée's quirks is the way to go. For instance if they adore penguins, you could write 'Marry Me' on pebbles as penguins are known to gift pebbles to each other as a token of their affection & commitment.
A romantic bath for two can be the ultimate sensual luxury, and the perfect scene for that proposal. Candles, rose petals, and a gorgeously luxurious robe (perhaps with a rose gold engagement ring hidden in a pocket!) all add to that opulent feel. Turn the lighting down and play your favourite music in the background to set the perfect ambience.
Top tips to keep in mind when setting the scene are to factor in preparation time; the lighting of candles, separation of rose petals, arranging & ensuring batteries for any fairy lights etc. If planning to capture the proposal on camera, make sure to plan this ahead too. While a smartphone in the corner of the room may be enough, ensure it's charged (or plugged in), and ready to record the moment. Your loved one will appreciate being able to re-watch the special moment, and share it with friends & family.
Grand gestures aren't for everyone, and little surprises can pay off
It's tempting to hold off and wait until restrictions ease to facilitate a grand proposal, but remember that proposing is ultimately about you & your relationship. We often overlook how special it is to be living with our partners, in a house where so many memories are shared & crated; so isn't it the ultimate meaningful place to propose?
One couple got engaged with the smallest, subtlest gesture. A simple swapping of the regular 'girlfriend' version Christmas card to the 'fiancée' version was used to propose. For couples that aren't big on the overly romantic cheesy gestures, smaller informal but intimate gestures can be the way to go. The privacy of doing it in your own home also keeps the focus entirely on you two.
For some, the timing during lockdown is appreciated. It can take what has been a pretty rubbish year, and turn it around into one to be remembered (for positive reasons!)
Make a personalised film all about your loved one
Keep the element of surprise by turning something ordinary, such as a lockdown date night, into something extraordinary. Although some cinemas have reopened, suggest a cute movie night with popcorn & your favourite snacks. When you sit down to watch the film however, it's all about them and your relationship, with messages from friends and family. You could incorporate a personalised song as mentioned earlier, or even keep it simple with a photo collage and some beautiful backing music. Make it personal with photos you've both taken over the years, of places you've been, and of special moments you've shared together. This is also a fantastic way to incorporate friends & family that are unable to be with you in person.